Samsung's Tactical Edition mobile devices are continuing to help transform the way military personnel operate, providing improved situational awareness and decision-making capabilities. The result is an unprecedented level of enhanced situational awareness achieved through collaboration between the Department of Defense and Samsung engineers over the last decade.
The first custom tactical Samsung read-only memory (ROM) was produced in 2012, leading to the subsequent launch of the S9 Tactical Edition. This established the Tactical Edition line of commercially available mobile devices that effectively integrate with software designed for military operations. The Samsung Galaxy S20 Tactical Edition is now supporting thousands of DOD personnel across all service branches and has proven itself in a wide range of assignments and environments.
Mission-ready Tactical Edition mobile devices
We are now announcing a new and more expansive Tactical Edition portfolio during SOF Week, May 8-11 in Tampa, FL. Initially, there will be two Tactical Edition models, one based on the Samsung Galaxy S23 and the other based on the Samsung Galaxy XCover6 Pro. These will be mission-ready mobile devices with advanced capabilities that meet military security requirements and are part of a comprehensive partner ecosystem. With custom software and features, these Tactical mobile devices will seamlessly integrate with a range of existing peripherals and support the requirements of tactical and classified applications, including the navigation of complex terrain and communication with command units.
Shop special offers
Find out about offers on the latest Samsung technology.
See Deals
Speak to a solutions expert
Get expert advice from a solutions consultant.
Talk to an Expert
The upcoming Tactical Solutions will leverage the full power of Samsung's latest mobile devices. These solutions will provide warfighters with new technology to give them an edge in the field while providing IT teams with an easy-to-deploy, highly secure solution that meets the demands of a regulated environment.
Military communication capabilities
The Galaxy S23 Tactical Edition and XCover6 Pro Tactical Edition will come preconfigured with software suite and purpose-built drivers to support tactical radio and mission device protocols, including accessing drone feeds and laser rangefinder information. Both Tactical Edition models support all conventional cellular capabilities, including LTE wireless (multicarrier and private), CBRS, Bluetooth, and Wi-Fi. They can be tethered to secure tactical communication systems and support a stealth mode that disables LTE and e-911, muting all radio frequency broadcasting for completely off-grid communications.
Increase situational awareness in public safety
Learn how to enable situational awareness for everyone with the use of the powerful mobile app ATAK. Download Now
Secure protection
Cybersecurity has always been a top priority with Samsung's Tactical Edition line, and the new Galaxy S23 Tactical Edition and XCover6 Pro Tactical Edition are no exception. They will both protected by Samsung Knox security, a defense-grade security platform built into Samsung mobile devices from the chip up for superior protection that keeps data safe and encrypted. Knox Dual Data at Rest (DualDAR) provides a smooth user experience and meets NSA requirements for protecting confidential data, providing two layers of encryption even when the device is powered off or in an unauthenticated state. This makes Tactical Edition devices ideal for classified or mission-critical environments where sensitive information must be secured at all times.
Special applications for operators
These newly announced Tactical Edition smartphones work exceptionally well with applications like the Android Team Awareness Kit (ATAK) and the Battlefield Assisted Trauma Distributed Observation Kit (BATDOK). ATAK and BATDOK — both optimized for Android OS — work in collaboration with Samsung to create a seamless user experience, which includes the adaptation of a programmable side button for quick and efficient application access.
ATAK gives operators dramatically enhanced real-time situational awareness through mapping, messaging, and geo-fencing. All team members and relevant information are viewable simultaneously on a single screen.
BATDOK collects and distributes real-time patient encounter information, enabling medics to monitor the vitals of multiple patients, quickly capture a complete history of each patient's treatment (from the point of encounter through medical evacuation), and then convey critical information to the next level of care.
Military tough
For field personnel, the Galaxy S23 Tactical Edition is IP68 certified for dust and water resistance (submerged up to 5 feet for up to 30 minutes). Gorilla Glass Victus+, an Armor Aluminum frame, and a rugged military-grade case that can be chest-mounted or worn on the forearm, makes the S23 Tactical Edition even more durable.
The XCover6 Pro Tactical Edition is duty-ready out of the box and is also IP68-certified, in addition it is MIL-STD-810H compliant*, meaning it can withstand drops up to 5 feet, is water-resistant, and can operate effectively within a wide range of temperatures.
Both of these Tactical Edition devices have a night vision mode to accommodate viewing through night vision optic devices, auto-touch sensitivity to work with gloves, and an auto-rotating lock screen to facilitate use in a flip-down chest mount.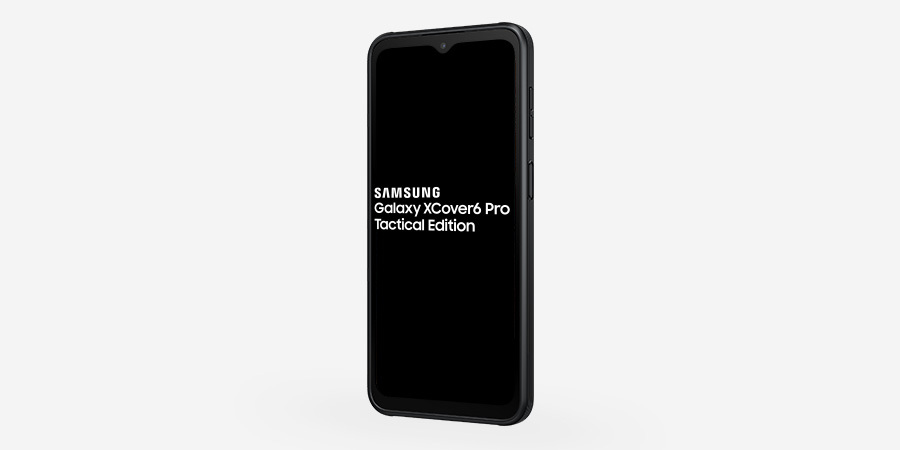 Power to spare
Both the Galaxy S23 Tactical Edition and the XCover6 Pro Tactical Edition will advance the "One Device for all Missions" approach because they are lightweight and easy to carry — yet, they deliver even more computing power to complete the mission. The S23 Tactical Edition will be equipped with a powerful 64-bit octa-core processor and exclusive Snapdragon 8 Gen 2 for Galaxy (4nm) chipset. The XCover6 Pro Tactical Edition will have an octa-core processor and use a Snapdragon 778G chipset. Both will be fully capable of supporting multiple mission apps so operators can access the intel they need, regardless of location.
Power of DeX
These newly announced Tactical Edition devices will support Samsung DeX, which offers an intuitive PC-like experience when connected to a larger display and keyboard. This flexibility is great for positions like a command post where personnel also have a field assignment. DeX can also support in-vehicle operations, making it useful for military law enforcement units that would otherwise use a mounted laptop. With DeX, a single smartphone can support operations in the field, in the vehicle, and in the station — one device for multiple missions.
These new Samsung Tactical Edition smartphones will be valuable tools that can help our warfighters achieve their missions. They are rugged, reliable, and equipped with features that make them ideal for use in tactical environments, and are set to be launched later in the summer of 2023.
Connect with Samsung during SOF Week at Booth #243, and sign up for updates on our expanding line of Tactical Edition devices.
*These devices passed military specification (MIL-STD-810G) testing against a subset of 21 specific environmental conditions, including temperature, dust, shock/vibration, and low pressure/high altitude. Real world usage varies from the specific environmental conditions used in MIL-STD-810G testing. Samsung does not guarantee device performance in all extreme conditions.
Water resistant in up to 5 feet of water for up to 30 minutes. Rinse residue/dry after wet.