No one doubts that mobile technology boosts productivity and efficiency, but field and industrial workers need mobile technology that's also tough enough to handle their intense work environment. The average consumer device wasn't built for the lineman or factory floor worker's needs.
For some of the industries that field and industrial workers operate in — such as transportation, logistics, field services, utilities, manufacturing and public safety — a lack of suitable rugged solutions has hampered their transition from manual, paper-based processes to seamless mobile workflows.
Many businesses are still leveraging legacy technology, such as bulky laptops bolted in vehicles, two-way radio for communications or proprietary barcode scanners for inventory management. Others have opted for consumer tablets with ruggedized cases to provide greater durability. But long-term, the most effective solution is a rugged tablet that's purpose-built to work in tough environments.
Samsung is addressing this need with a line of full-featured rugged tablets, including the Galaxy Tab Active Pro and Tab Active3.
The Galaxy Tab Active lineup
The Samsung Galaxy Tab Active Pro and Tab Active3 rugged tablets feature military-grade design, with MIL-STD-810 testing and IP68 certification to prove their durability. These devices are built to withstand drops, high altitude, extreme temperatures, immersion underwater, salt spray, wind and dust — so workers can go about their work knowing their tablet will perform reliably.
Shop special offers
Find out about offers on the latest Samsung technology.
see deals
Speak to a solutions expert
Get expert advice from a solutions consultant.
Talk to an expert
The Tab Active Pro is equipped with a 10.1-inch HD screen for displaying highly detailed data sets and graphics. The more compact Tab Active3 packs the same performance into a smaller package with an 8-inch screen. And though the TabActive3 is built on the familiar Tab Active2 platform, it offers four times as much memory — 128GB versus 32GB — and a more powerful processor for faster operations.
Seamless workflows
Listening to the feedback from enterprise customers, Samsung has introduced several unique capabilities that enable seamless workflows for field operators. Available on the Tab Active Pro and the Tab Active3, these capabilities include:
A water-resistant S Pen: The IP68-certified S Pen looks and feels like a real pen, and your team members can use it to easily jot down digital notes, sketch out ideas or capture signatures.
Customizations for quick access: With the tablet's physical programmable button, you can choose the business apps you want to be able to access with a single click.
Replaceable battery: The long-lasting battery keeps your team connected for hours at a time, but when that's not enough, the battery can be replaced with a spare to keep workers connected. A heavy-duty pogo pin connector provides rock-solid dependability for quick connection and rapid charging.
Gloved functionality: Enhanced Touch capabilities allow the touchscreen to be used while wearing gloves, as well as when the screen is splashed with water.
Samsung DeX: Workers have access to desktop computer functionality anywhere, simply by connecting an external monitor and optional keyboard. DeX is now wireless on TVs and monitors supporting Miracast.
The Tab Active Pro includes all the core features you'd expect from the Samsung Galaxy line, including as high-resolution front and rear cameras, as well as convenient biometric security like fingerprint scanning and facial recognition. With Samsung's unlocked 4G LTE models, you can enjoy high-speed data connectivity wherever work takes you — and on your preferred carrier network.
The Tab Active3 offers these same capabilities in a smaller package. It also comes with No Battery mode, meaning that the device can operate indefinitely while plugged into an external power source — without a battery on board. And because moving around in a factory (or another large industrial setting) with multiple Wi-Fi hotspots can cause signal dropouts, the Tab Active3 has a multiple-input, multiple-output (MIMO) antenna system that constantly chooses best available transmission path.
Beyond the device
The challenges of digital transformation go beyond hardware. Turning a rugged tablet into a business-ready productivity tool means developing the right partner ecosystem to deliver a complete end-to-end solution.
For the Tab Active Pro and Tab Active3, Samsung has worked closely with leading software solution providers to create turnkey solutions that address specific industry needs, in areas including:
IT-friendly management
As IT professionals know, mobile device deployments can be complex. From initial configuration and security updates to ongoing management and support, rolling out new hardware presents challenges — doubly so when the labor force is working from many different locations.
Empower your field services team with mobility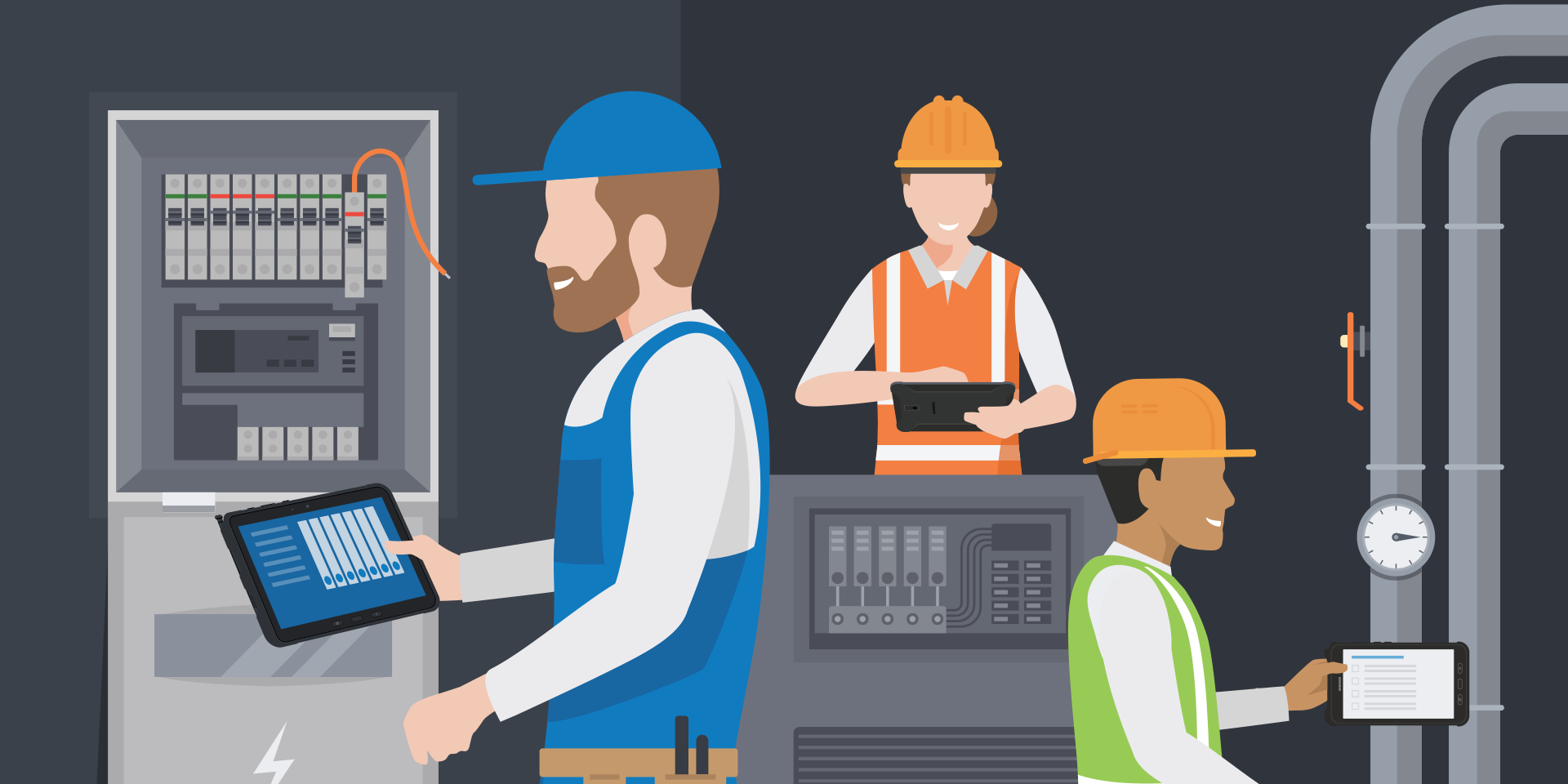 Exceed customer expectations with this free guide to improving connectivity in field services. Download Now
Samsung's Galaxy Tab Active3 Enterprise Edition is made to help business and IT managers handle all aspects of deploying and maintaining a secure fleet of rugged mobile devices. The Enterprise Edition comes with Knox Suite, a portfolio of mobile device management (MDM) tools that includes:
Knox Platform for Enterprise (KPE) for advanced security, customization and control
Knox Mobile Enrollment for streamlined, bulk enrollment of devices to your MDM
Knox Manage, Samsung's own comprehensive EMM solution
Knox E-FOTA for managing OS and firmware updates
Knox Asset Intelligence for monitoring device performance
Enterprise Edition also provides three years of product life cycle support, four years of security maintenance and updates and three OS updates.
The bottom line
Field and industrial workers need fully featured rugged devices for on-the-job productivity, collaboration and communications. Without these tools, your organization is at a disadvantage in today's competitive mobile economy. The Samsung Galaxy Tab Active Pro and Tab Active3 make it easy for your workforce to go fearlessly — and work seamlessly.
Discover how Samsung's line of military-grade rugged devices can improve worker safety and productivity in any industry. Or take this quick assessment to see which Samsung tablet would best support your business needs.