What's the best way to spur fresh thinking to solve some of the Veterans Health Administration's (VHA) — and our nation's — toughest healthcare challenges?
Bring together some of the nation's brightest engineers, clinicians, entrepreneurs, programmers and designers from different disciplines to collaborate on generating solutions for systemic healthcare issues.
That was the aim of the recent three-day MIT Hacking Medicine D.C. Grand Hack hosted at Samsung's D.C. Solutions Center, together with the Veterans Health Administration (VHA) and Massachusetts Institute of Technology (MIT).
Improving Care for Our Veterans
"Improving the health and wellbeing of veterans ultimately improves the health of all Americans. Events like this hackathon are actually vital to us coming up with innovative out-of-the-box ideas for how we can improve care for veterans," said Dr. Carolyn Clancy, deputy undersecretary for discovery, Education and Affiliate Networks, Veterans Health Administration on the importance of events like the MIT Hacking Medicine D.C. Grand Hack.
Modernize Your Hospital With Mobility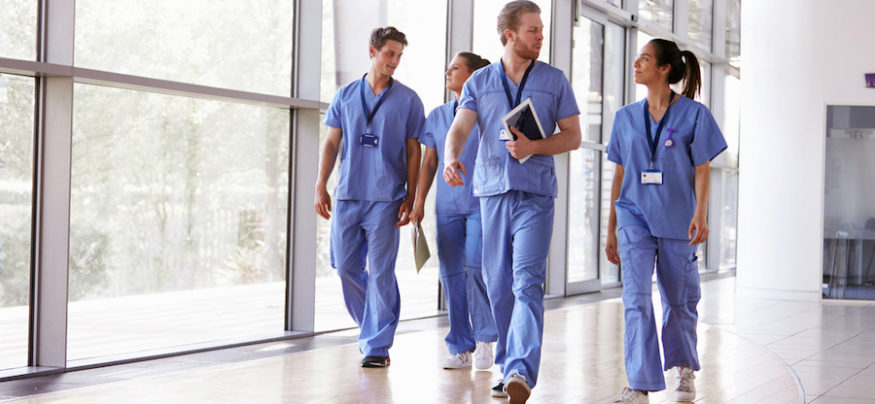 Discover the latest mobile solutions and best practices for clinical communications in this webinar. Download Now
Attendees worked together to raise awareness and build new healthcare applications in areas such as remote patient monitoring, telehealth and clinician workflow efficiency. As Zen Chu, health tech entrepreneur, investor and faculty director for MIT Hacking Medicine noted, "Technology scales medicine, and startups are the ones that can fill these gaps and can start that scaling."
Samsung Mobile Technology Promotes Collaboration and Innovation
The event represented the power of what can be achieved when public and private agencies collaboration to drive healthcare innovation. In addition to MIT, which brings a community of the brightest minds to the table, "Samsung is able to provide the tools, training and resources needed to develop some of the digital health solutions that have the ability to change the delivery of healthcare for our veterans," said Suzanne Shirley, entrepreneur in residence, U.S. Department of Veterans Affairs.
Using Samsung's suite of devices — including the Galaxy smartphones, tablets, smartwatches, software development kits (SDKs) and the Samsung Knox mobile security platform — participants brought their ideas to life and demonstrated how they can tangibly solve pressing real-world problems that aligned with the event tracks in key areas such as Access to Healthcare, Mental Health and Professional Burnout, and Rare and Orphan Diseases.
The top concepts brought forth by teams CrowdAid, KeyWatch and SAIF were recognized with Samsung Breakthroughs That Matter Awards. These teams join past winners including Simulacron and Match Perch, which were selected at the Boston Grand Hack held in May 2019. Each winning team member received a free Samsung Galaxy Note9 and a Knox Security Platform license, as well as access to Samsung Developer Program mentors who will assist in progressing the development of the winning applications.
Learn how to improve staff and visitor communication through digital signage in both hospitals and government agencies in these strategy guides.