The traditional barcode scanner has served warehouses well for years. It got the job done — but only one job, and it was bulky and expensive. Now, forward-thinking warehouse operations leaders are retiring it and opting for a rugged mobile device that can do many jobs.
Many manufacturing, retail and logistics businesses have already deployed rugged smartphones and tablets to simplify operations, reduce waste and streamline communications. And thanks to recent innovations in smartphone-based scanning and wearable scanning accessories, these mobile devices have a new warehouse use case: instant data capture.
Shop special offers
Find out about offers on the latest Samsung technology.
see deals
Speak to a solutions expert
Get expert advice from a solutions consultant.
Talk to an expert
3 ways to scan barcodes with mobile devices
There are several ways to approach scanning with rugged mobile devices, depending on what workers are doing, how often they need to scan and how fast they need to do it. These include:
1. Attached scanning accessory
Aftermarket "sleds" allow users to equip rugged devices with the same pistol-grip functionality as the traditional scanners they're accustomed to, but they're not as bulky, and workers can use the same device to access apps and communicate with their teams. Koamtac's SKXPro SmartSled, for example, is made exclusively for the Samsung Galaxy XCover Pro — transforming the rugged Samsung smartphone into a professional scanner with a laser aim.
2. Wearable scanning accessory
Wearables are ideal for pickers who need to scan fast and keep their hands free. For example, ProGlove's MARK Display wearable scanner — a small, high-performance unit that clips to a strap on a worker's wrist — lets wearers point toward a barcode and use their thumb to activate the scanner. The scanner transmits barcode data via Bluetooth to the paired smartphone or tablet, which communicates directly with the warehouse inventory management system. This fast, ergonomic scanning solution is more affordable than traditional scanners, and you get a powerful, multipurpose mobile device to access your other warehouse management applications.
3. Scanning straight from a smartphone
Accessorizing is one way to approach barcode scanning; the other is customization. With Knox Capture, companies can reconfigure Samsung smartphones, tablets and wearables for easy, secure barcode scanning — allowing workers to scan with a quick squeeze of a programmable button, or with a tap of the scanning icon on the screen's keyboard. Knox Capture leverages the mobile device's high-resolution camera combined with Scandit's powerful data capture engine to deliver enterprise-grade scanning with no accessories, and no coding, required. While Knox Capture is not built for warehouse pickers who scan thousands of barcodes a day, it's ideal for workers who occasionally need scanning capabilities but always need mobile devices.
Bottom line: Traditional standalone scanning devices that don't integrate with mobile technology are a thing of the past. As warehouses go mobile, manufacturers want industrial-grade barcode scanning capabilities from the same devices their teams are using across the business. A custom-configured mobile device gets the job done — and then some.
Rugged smartphones bring greater durability
Barcode scanning aside, most mobile devices weren't considered durable enough for warehouse environments until recently. Heat, heavy machinery, nonstop movement and constant handling pose a direct threat to delicate electronics. Sturdy device cases can help in some instances, but they may affect touch support, and they won't keep devices from overheating.
Purpose-built rugged mobile devices are stronger, lighter and better suited to physically demanding warehouse environments. Smartphones like the Galaxy XCover Pro and tablets like the Galaxy Tab Active3 can withstand all-day usage in industrial workplaces and harsh conditions. Both the XCover Pro and Tab Active3 passed over 20 rigorous tests to prove their military-grade toughness, conducted in accordance with the Department of Defense's MIL-STD-810 standard. These devices have can handle extreme temperatures, repeated drops and vibrations, and they're also IP68 certified for water and dust resistance — with shatter-resistant screens to boot.
The definitive guide to warehouse efficiency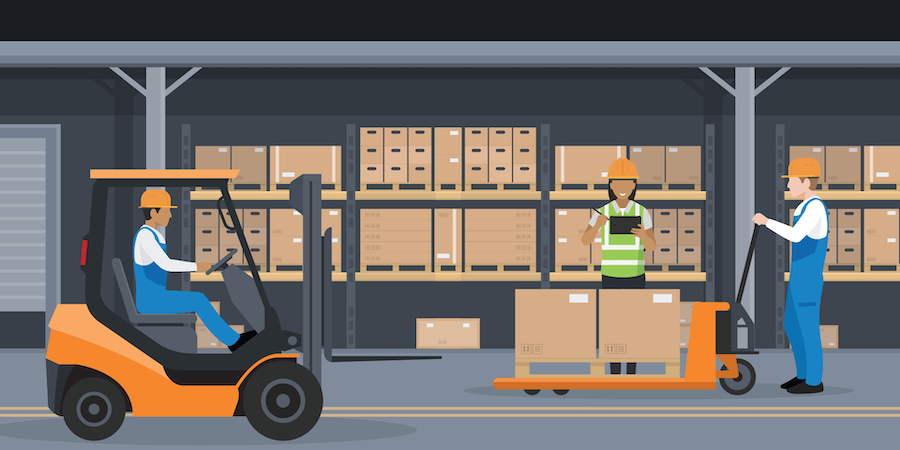 Get your free guide to increasing warehouse efficiencies and cutting costs with mobile processes. Download Now
The Tab Active3 also comes with a water-resistant S Pen for on-screen note taking and signature capture, as well as durable pogo connectors and a long-lasting replaceable battery. But what really sets these rugged mobile devices apart is their onboard features, storage and processing power. The Tab Active3 even supports Samsung DeX, letting you power a full desktop experience from your tablet by connecting it to a monitor.
Value beyond barcode scanning
Equipped with high-resolution cameras, gyroscopic sensors and GPS modules, Samsung's rugged devices offer far more functionality than traditional barcode scanners. By scanning with a smartphone, tablet or wearable accessory, warehouse workers' needs are consolidated onto fewer devices — with expanded capabilities. And when these rugged devices are equipped with productivity apps, they can do so much more than scan and manage inventory; they're also collaboration and communications enhancers, especially when combined with push-to-talk capabilities and platforms like Microsoft Teams.
All Samsung mobile devices come equipped with Samsung Knox, a security platform built directly into the hardware of the device, so your data is always protected. Meanwhile, Knox device management solutions allow businesses to easily customize their deployment so that each device is limited to and optimized for key warehouse operations applications. With free tools like Knox Mobile Enrollment (KME), you can bulk enroll devices quickly and painlessly to your enterprise mobility management (EMM) console. If the device undergoes a factory reset, KME also automatically reinstalls your EMM, so lost and stolen devices are safe from tampering.
As warehouses' connectivity continues to grow, organizations have new security concerns. Any risks posed by smartphone-based barcode scanning can easily be mitigated with the advanced controls offered within the Knox Suite and the enterprise-grade biometric security features built into the Galaxy XCover Pro and Tab Active3.
Besides secure barcode scanning, the right rugged device equipped with the right apps can give logistics and distribution warehouses a new level of visibility into their operations. Not only does this boost efficiency, it's also one more step forward on the path to digital transformation.
Each warehouse operation has unique needs, and your devices should serve those needs. Make sure you choose the best rugged device for your business with this short guide. Or discover how you can improve connectivity for field workers in this free white paper.