Whether they're operating a forklift, handling sensitive materials, or fighting a forest fire, frontline workers depend on tools that help them work smarter, faster, and more efficiently. Asking them to share or juggle multiple devices — such as an assortment of barcode scanners, walkie-talkies, and other equipment — is the opposite of that.
Instead, you can empower frontline workers and first responders by offering them a multi-purpose device that simplifies collaboration — and that's as tough as their work environment.
Ready to take on the toughest environments and designed with the versatility to do more with less, Samsung's Galaxy Tab Active4 Pro is a rugged tablet that enables frontline teams to get the job done efficiently, while providing complete peace of mind for business leaders.
Meet the Samsung Galaxy Tab Active4 Pro
Galaxy Tab Active4 Pro's sleek design includes a convenient 10-inch display that features Samsung's easy to use One UI. With a 2.4Ghz Qualcomm Snapdragon 778G processor, this is a rugged tablet that gives business leaders the confidence that employees have the tool they need for their job.
Samsung launched Galaxy Tab Active4 Pro in late 2022, a time when frontline and field workers were in the midst of significant digital transformation — and they still are. Additional tech capabilities are critical. They not only need tablets that can withstand drops and extreme temperatures, but also real-time information, on-the-go productivity, and the ability to digitize formerly paper-based processes.
Galaxy Tab Active4 Pro is Samsung's most advanced rugged tablet to date. Its top benefits include:
1. Military-grade toughness with industrial features
Tablets have brought a world of information to people's fingertips — but in some industries, such as utilities, employees' fingers are covered by gloves.
Thanks to its enhanced touch capabilities, Galaxy Tab Active4 Pro allows field workers to use the device with their gloves on, or even when their hands are wet.
Shop special offers
Find out about offers on the latest Samsung technology.
See Deals
Speak to a solutions expert
Get expert advice from a solutions consultant.
Talk to an Expert
You can also set up the programmable Active Key so it will help pull up the apps employees use most. If employees regularly use a scanning app, for instance, they can set one of the buttons to open it up for quick and easy access, while another key could be set up with push-to-talk (PTT) functionality to access a walkie-talkie app.
As for screen durability, Gorilla Glass protects the tablet's display. The entire device has passed strict testing to achieve military-grade durability ratings such as MIL-STD-810H and IP68. The S Pen has also achieved IP68 certification, supporting all the functions you'd expect in a premium device. All that said, the Tab Active4 Pro is still far from being bulky or heavy, with a sleek and light design.
2. Cutting-edge connectivity for seamless work
In sectors such as manufacturing, transportation, healthcare, and public safety, people can't afford to worry about staying connected. Buffering or lack of service can lead to costly errors and increased risk. Galaxy Tab Active4 Pro addresses this issue with built-in 5G connectivity, so frontline and field workers can count on faster network speeds, lower latency, and greater accuracy.
5G's throughput and service deployment capabilities also make it ideal for running advanced applications based on augmented reality (AR). Field workers and public safety teams can use this capability to share more contextual information about what's happening on-site with colleagues who are off-site.
Galaxy Tab Active4 Pro also includes Wi-Fi 6 connectivity, with higher speeds and better overall performance than its predecessor. In a warehouse, for instance, Wi-Fi 6 ensures that workers are able to stay connected on their Galaxy Tab Active4 Pro as they move to the parking lot, the loading dock, or beyond. The same applies in an aircraft manufacturing facility, where getting from one end of the facility to the other requires crossing a considerable distance.
For organizations based in the U.S., Galaxy Tab Active4 Pro also supports Band 14, which is used by FirstNet. Within the enterprise, the tablet's support for private networks provides the improved responsiveness and reliability that businesses need for machine-to-machine (M2M) communication, such as remote asset tracking and real-time warehouse management.
Finally, Samsung DeX means Galaxy Tab Active4 Pro users can share what they're seeing on an external display and enjoy a PC-like work setup. A retail associate could also use DeX to plug their tablet into a cradle and use it like a monitor to help a customer check out, make payments by tapping on the docking station, and print out receipts.
3. Flexible power options to go the distance
Rugged tablets also need to power through long hours, perhaps an entire shift or a prolonged emergency operation. Galaxy Tab Active4 Pro delivers with a 7,600mh battery.
If you run into difficulties charging the device in the field, Galaxy Tab Active4 Pro's swappable battery allows you to quickly swap the dead battery and keep on going. The added pogo pin, meanwhile, supports fast charging with no extra plugging in required.
Enable your mobile workforce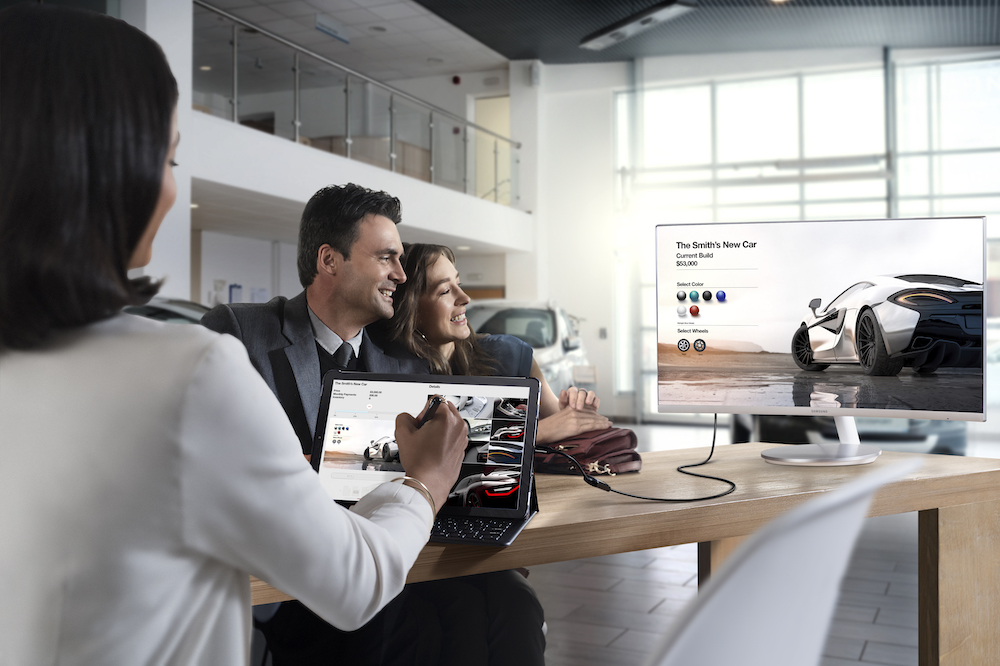 Get your free guide to equipping mobile workers with Samsung's Galaxy Tab S4 and DeX. Download Now
Galaxy Tab Active4 Pro even has a No Battery Mode, which can be helpful when frontline workers need to mount their tablet in a vehicle or station it as a kiosk. You can connect through a dedicated power source while managing the battery's temperature.
4. Protection for your investment and data
The essential nature of frontline work means organizations want to keep their rugged tablets in the field for as long as possible.
As an Android Enterprise Recommended (AER) device, Galaxy Tab Active4 Pro meets Google's strictest requirements for security and manageability. Samsung also helps maximize return on investment (ROI) by supporting three OS updates, beginning with Android 12 up to Android 15. Samsung Enterprise Edition devices also enjoy security and maintenance updates for up to five years from initial release and three years of product life cycle support.
Galaxy Tab Active4 Pro deployments grant businesses one year of Samsung Knox Suite for free. Knox Suite offers a comprehensive — and ever-expanding — tool kit to secure, deploy, manage, and analyze mobile devices. Knox Asset Intelligence, for example, provides critical visibility into application usage, connectivity, and location tracking, while Knox E-FOTA simplifies the process of keeping devices updated.
5. A powerful ecosystem and accessories
Samsung's long-standing relationships with leading hardware and software vendors extend the value of a device like Galaxy Tab Acitive4 Pro even further.
This spans widely-used platforms such as Microsoft Teams for productivity and PTT communicaitions to applications like Scandit that help facilitate barcode scanning in a warehouse. Companies like Gamber Johnson and Targus, meanwhile, offer docks and mounting equipment as well as input devices like keyboards. Hand straps, shoulder straps, and other accessories from Samsung ensure there is something for almost any business need that might arise.
With a rugged tablet that's designed with their needs in mind, frontline employees don't just get more done; they're also positioned to provide better customer service with less hassle. Galaxy Tab Active4 Pro helps keep people happy and successful on the frontline, while protecting company data and employees' privacy simultaneously.
Discover how Galaxy Tab Active4 Pro can upgrade your frontline operations, big and small. Or find which Samsung tablet would best support your business needs with this quick free assessment.